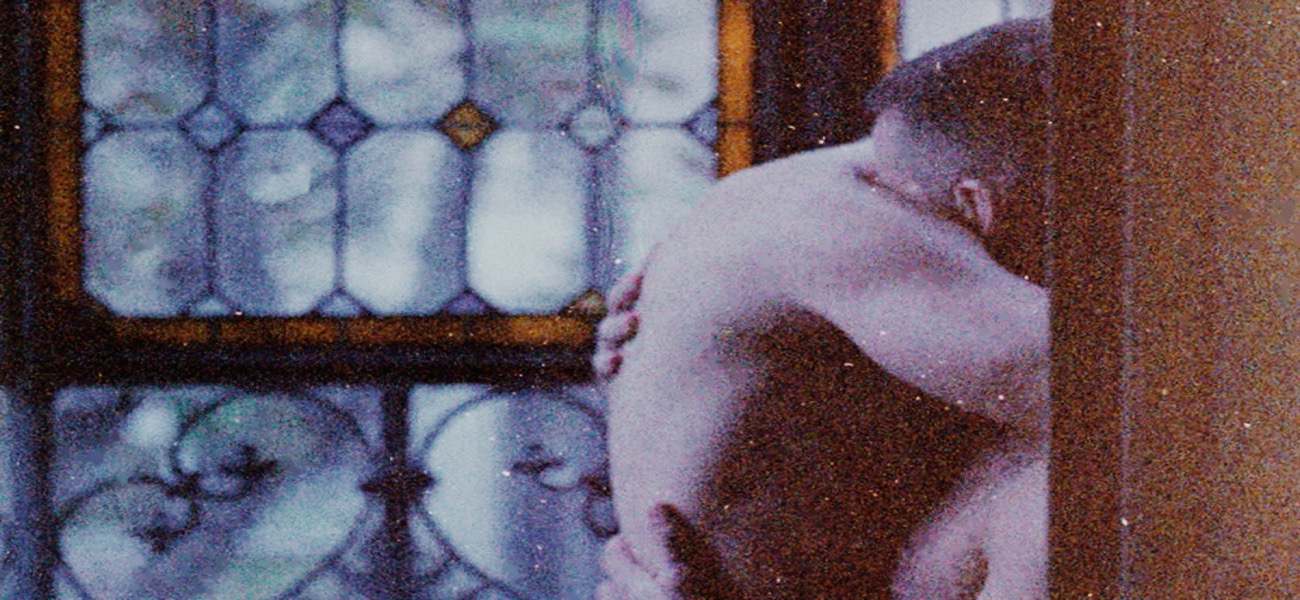 Nudes and truths, Anailogico's visual prose
12 Dec 2018 by Axel Hotels
Anailogico is a visual prose project began in 2013 in Panama. It has already more than 100 pics of men and women from all over the world. These pics always go with words, and everyone can identify with those texts. 5 years ago, the artist behind this project moved to Barcelona. Last November he was […]
Anailogico is a visual prose project began in 2013 in Panama. It has already more than 100 pics of men and women from all over the world. These pics always go with words, and everyone can identify with those texts.
5 years ago, the artist behind this project moved to Barcelona. Last November he was in Axel Hotel Barcelona for a photoshoot. You can see the result after this short interview.
Do you like Barcelona?
A lot! It's my favorite of all the cities I've lived in. I was born in a town of 300 inhabitants and big cities overwhelm me. I have lived in Buenos Aires, Madrid and Paris, and they too chaotic for me. Barcelona is the perfect mix of a little and a big city: it has crowded streets but also calm towns like Gràcia… and the beach, of course!
Why is your project called "Anailogico"?
I take pictures to write. Analogy is a literary figure used to compare two situations of words. Through this comparation a third word emerges. I join a pic with a text to create a third idea. Besides, the photo format I use is analogue.
When did you begin this project?
It officially begun in 2013, with a couple from Venezuela who came to Panama. They wrote me on Tumblr because they wanted some pics. They had sex while I was taking pictures of them. One of them put his entire fist in his mouth when he cum. I asked him why and he answered, "what are you talking about?". His boyfriend explained me that he didn't realize that. He always has moaned loud. He grew up in a very catholic family, so when he masturbated in the toilet he put his fist in his mouth, so his family couldn't hear him. And he still does it, even if he doesn't live at his parents' house anymore.
I realized that during sex, in private, we are all weirdos. When I take pictures, I try to photograph a person alone, when nobody judges him/her.
Every passing day, your project has more followers on Instagram. Do you think this social network has changed the way we love?
Of course! Now people love themselves way too much. Ten years ago, ego was for models, actors, managers… now everyone has a big ego and that's because of social networks. They create the need of satisfy our ego constantly.
We always show positive things there, but I show what we don't want to: rejection, fear, abandonment… things we all share and that's why I think my project is successful.
Every gay man living in Barcelona can identify with your texts. Do you think this way of loving and having sex is something of gay men of Barcelona? Or it's just current times?
No. Actually, a lot of women follow me. The lines I write may be homoerotic, but everyone can identify with them. I don't think gay men love in a different way than lesbians, heterosexuals or bisexuals do.
These are the two texts inspired by the pictures Anailogico took at Axel Hotel Barcelona (original texts are written in Spanish).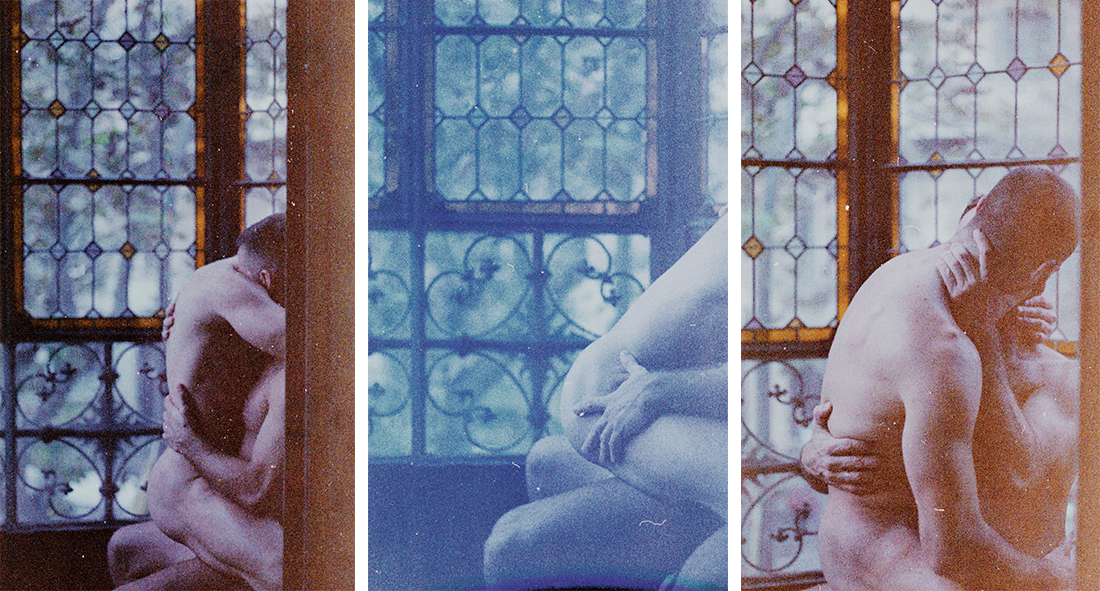 I don't remember the exact day we met, but I do remember our first holidays, fundamentally because none of us made a couple trip. We've never hold our hands in public, in our country there weren't balconies to be nude, being who we were: two faggots in love. I still remember the crystals of the balcony, they were so beautiful, I remember you getting dressed with the noise from the streets, I remember we arrived a rainy day and we removed our clothes improvising a honey moon surrounded by those crystals. Here, within these walls we learned to be free, we learned that we could arrive to the hotel's front desk holding our hands, we were so many things here… I think that hotel room is still with us, and our happiness survives the daily change of sheets.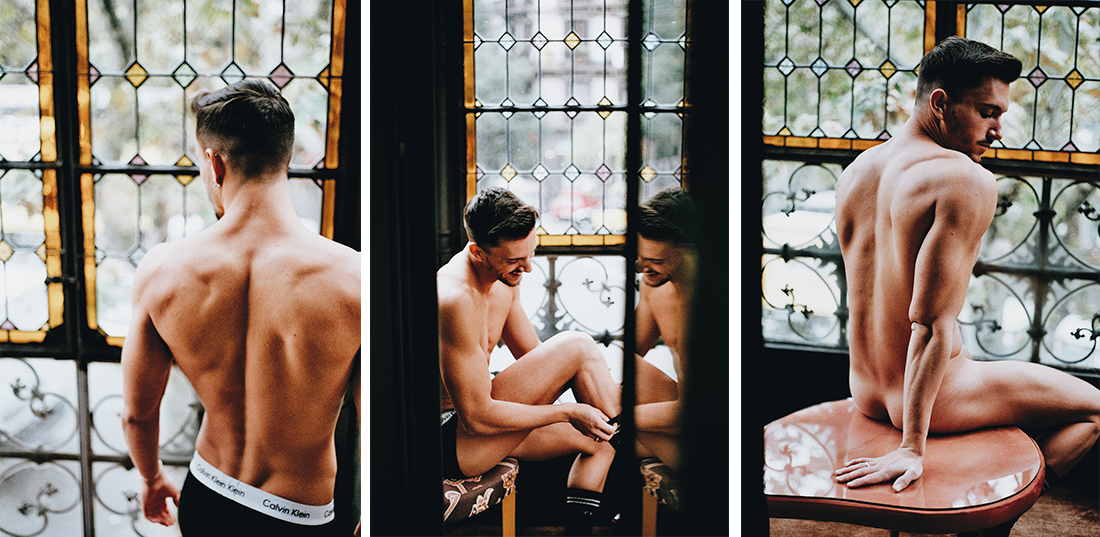 I don't know how he learned to get undressed with that beautiful nudity and hate so much his smile in the shower's mirror. He said he looked like an asshole, and I said that I wish assholes had those little holes in the cheeks when they laugh. I think he was afraid of his own smile, like being scared of being way too honest, maybe they taught him that it was easier to get undress than being vulnerable. Maybe those muscles weren't for vanity, they were there to make bigger the distance between his heart and everything outside, everything that could avoid him to smile again.