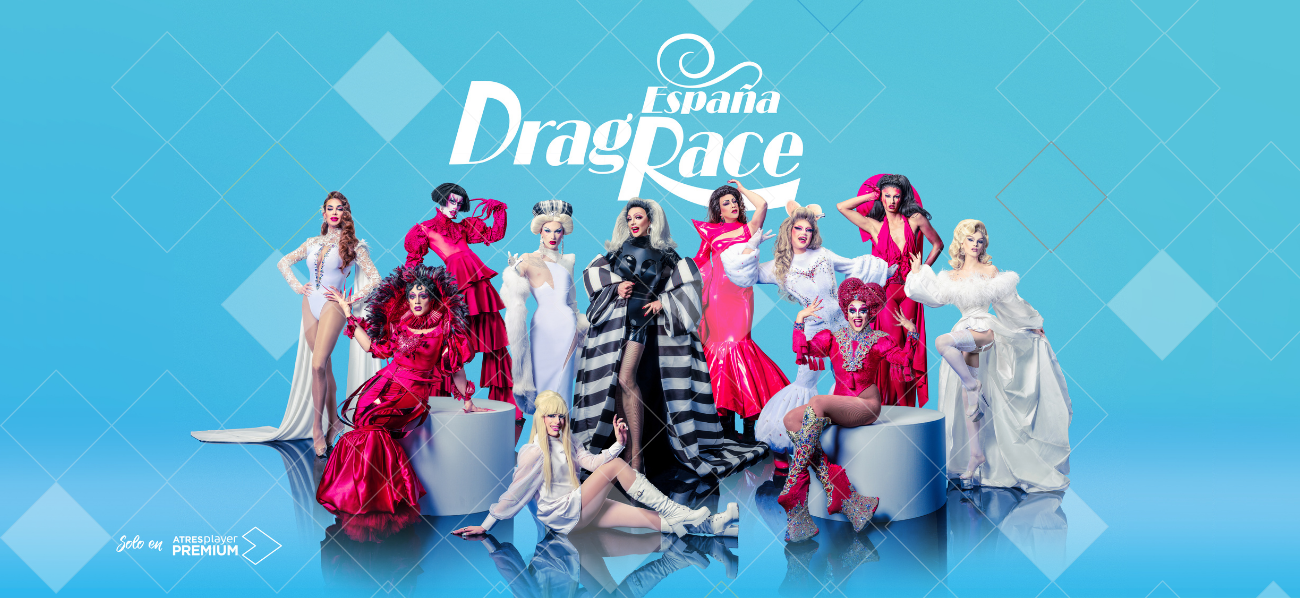 Meet the 10 queens of Drag Race España
5 May 2021 by Axel Hotels
The premiere of Drag Race Spain is one of the most expected of this 2021 and Michelle Visage introduced us to the 10 queens of the Spanish version of the North American RuPaul's Drag Race. And the wait to see all the queens on stage will be short because Drag Race Spain will premiere on […]
The premiere of Drag Race Spain is one of the most expected of this 2021 and Michelle Visage introduced us to the 10 queens of the Spanish version of the North American RuPaul's Drag Race.
And the wait to see all the queens on stage will be short because Drag Race Spain will premiere on May 30th by ATRESplayer Premium.
Before meeting the cast, Drag Race in Spain introduced us to the jury that will be made up of directors and screenwriters Javier Ambrossi and Javier Calvo (Yes, Los Javis that we know from the television series like Paquita Salas and La Veneno), the designer Ana Locking and the Supremme de Luxe as the master of ceremonies.
We had already presented you the RuPaul's Drag Race Season 13 full cast but now we are more than happy because it is the turn of met the cast of the version Made in Spain.
Now, let's get to the point, we present to you the contestants drag Queens of the first edition of Drag Race España so that you can become familiar, and why not, become fond of them.
Arantxa Castilla La Mancha
From Badajoz and at 23 years old, Arantxa Castilla La Mancha defines herself as "The Spanish Hannah Montana"
Carmen Farala
At 31 years old and from Seville, in her social media profiles, she highlights that for her "Perfection is not an option, it is an obligation"
Dovima Nurmi
From Barcelona and 24 years old, Dovima Nurmi has a very particular style and she describes herself as Mistress of Evil.
Vulcano
We want to see the fire on the stage of this CANARIAN DRAG QUEEN who is 30 years old and who is from Las Palmas.
Hugáceo Crujiente
A 25-year-old from Valencia, He/She/They does not follow an established role and has made a tutorial for those who do not speak Spanish to pronounce his name. You can see it on twitter.
Inti
She is the smallest queen of Drag Race Spain with 20 years old, she is from Bolivia and in her/his social media profiles she/he tells us that she/he is a non-binary multidisciplinary artist.
Killer Queen
A 32-year-old from Madrid, Killer Queen indicates in one of her Instagram posts "I came here to teach the world how to kill with kindness! ?❤️". By the way, His soul sister is Ariel REC whom we interviewed in Axel Mag for her release of the video clip "No quiero" where Axel Hotel Madrid is part of its scenography.
Pupi Poisson
From Madrid and at 39 years old, she is the #Flamencotravesti of Drag Race in Spain
Sagittaria
Aged 22 and from Barcelona, at Axel Hotels we already know the Sagittarius dimension because on several occasions she has already performed on the stage of the Sky Bar at Axel Hotel Barcelona.
The Macarena
From La Isla (Cádiz) and 29 years old, according to her Instagram profile, The Macarena is a Drag Performer who sings, dances and entertains…. very very well! ?
Well guys, those are all the queens for the first edition of Drag Race España and we want to see them on stage soon!