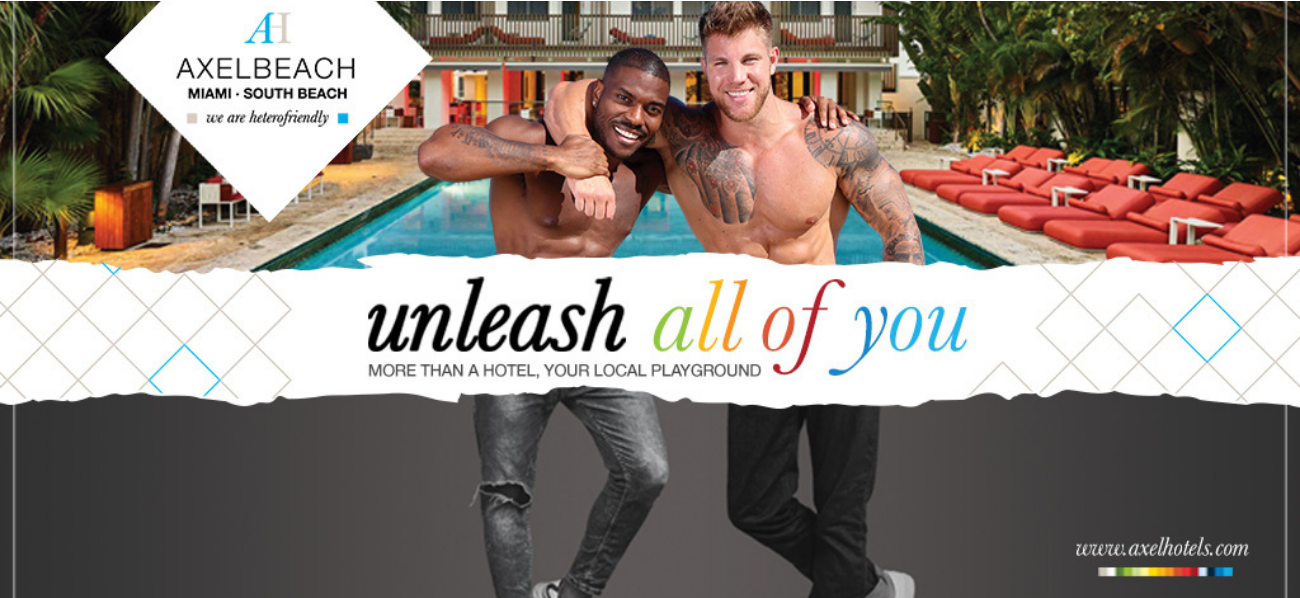 AXELBEACH MIAMI HOTEL LAUNCHES MARKETING CAMPAIGN TO INCREASE
BRAND AWARENESS AMONG THE SOUTH FLORIDA LGBTQIA+ COMMUNITY
25 May 2022 by Axel Hotels
The South Beach Property –Part of the First Hotel Brand Focused on the LGBTQIA+Community– Seeks to Position Itself as a Local Hotspot. MIAMI, FL, May 2nd, 2022 – Axel Hotels, the first hotel brand focused on the LGBTQIA+community, is launching a provocative marketing campaign this month for its first and only property(to date) in the […]
The South Beach Property –Part of the First Hotel Brand Focused on the LGBTQIA+
Community– Seeks to Position Itself as a Local Hotspot.
MIAMI, FL, May 2nd, 2022 – Axel Hotels, the first hotel brand focused on the LGBTQIA+
community, is launching a provocative marketing campaign this month for its first and only property
(to date) in the United States, AxelBeach Miami. With the headline Unleash all of you, the
campaign's main target is not visitors or tourists but South Florida residents. The main objective is to
engage and create a deeper connection with the local community while positioning the hotel as a fun
local adult playground, far more than just a place for tourists to spend the night.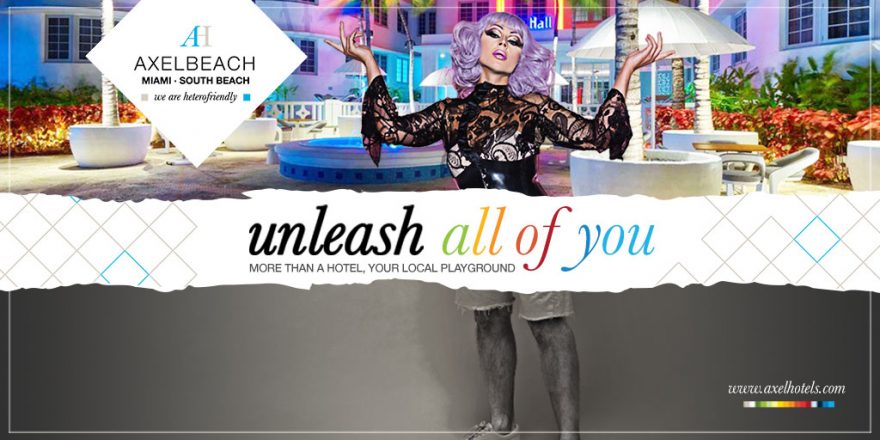 "We opened our Miami Beach location right before the pandemic started, so we haven't had a
chance to really connect with our community. Our brand is very well known in Europe, but we're just
recently entered the American market. That's why we decided to create this brand awareness
campaign so that our locals know they have a safe space to socialize, relax, have fun, be who they
want to be and unleash it all. This is what our hotels have become for our community in the rest of
the world and what we want for our first American location, while staying true to the local culture,"
said Silvia Pérez Viñolas, Axel Hotel's Marketing & Communications Director.
The campaign portrays a wide variety of local gay people in two side-by-side situations: one is a
colorless, generic, boring scenario that gets transformed into a colorful, fun and vibrant situation
when AxelBeach Miami's Unleash all of you headline tears right through the middle. Then, the
subhead "More Than a Hotel, Your Local Playground" lets people know there's far more to do than
just spending the night. Finally, the body copy talks about that duality of the visuals and how people
can forget about their monotonous routine at AxelBeach Miami: "The world can be so dull out there.
But in here, it can be whatever you want it to be. So come on in, express yourself, let your true colors
shine through and unleash your imagination."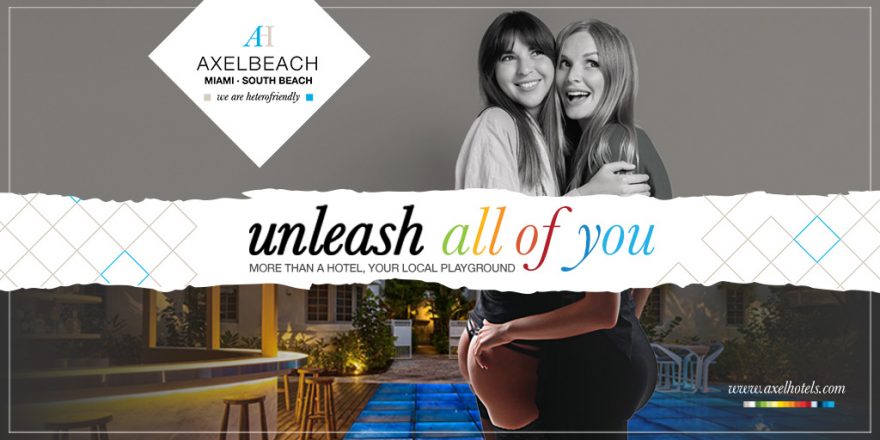 "Our brand's personality is fun, sexy and sassy but inclusive and open to all. This campaign perfectly
embodies those traits and welcomes everyone to have fun inside the hotel, whether by enjoying our
amenities, having a delicious meal at our restaurant or hanging out with their friends over drinks at
our SkyBar," explained Adrián Domínguez, AxelBeach Miami's Manager.
The marketing plan also includes a series of weekly, biweekly and monthly events, as well as
strategic alliances with LGBTQIA+ events and organizations, and marketing tactics designed to
increase traffic to the hotel and offer the community an alternative to the city's existing offer.
Some of the weekly events include a social happy hour to kick off the weekend on Fridays called
Foreplay, a poolside party on Sundays called Cool It Down, and the comeback of a Miami classic,
the Martini Tuesdays. "These events will be a great addition to the city's social calendar and a great
opportunity for people to hang out at our beautiful South Beach hotel and for locals to meet out-oftowners and make new friends," said Silvia Pérez.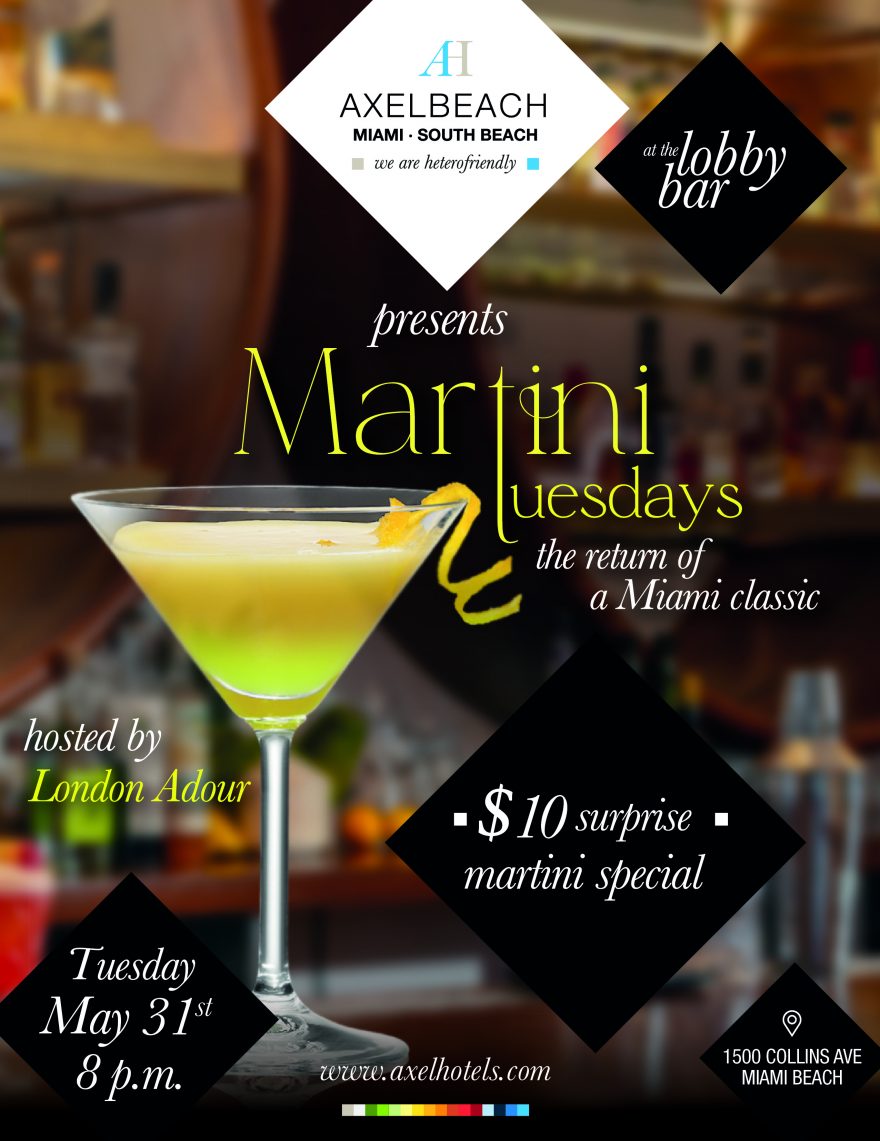 The campaign and series of events are set to begin this Spring-Summer season and continue for the
rest of the year. To stay informed, follow AxelBeach Miami's social media on Instagram, Facebook,
and Axel Hotels' YouTube channel and Twitter.