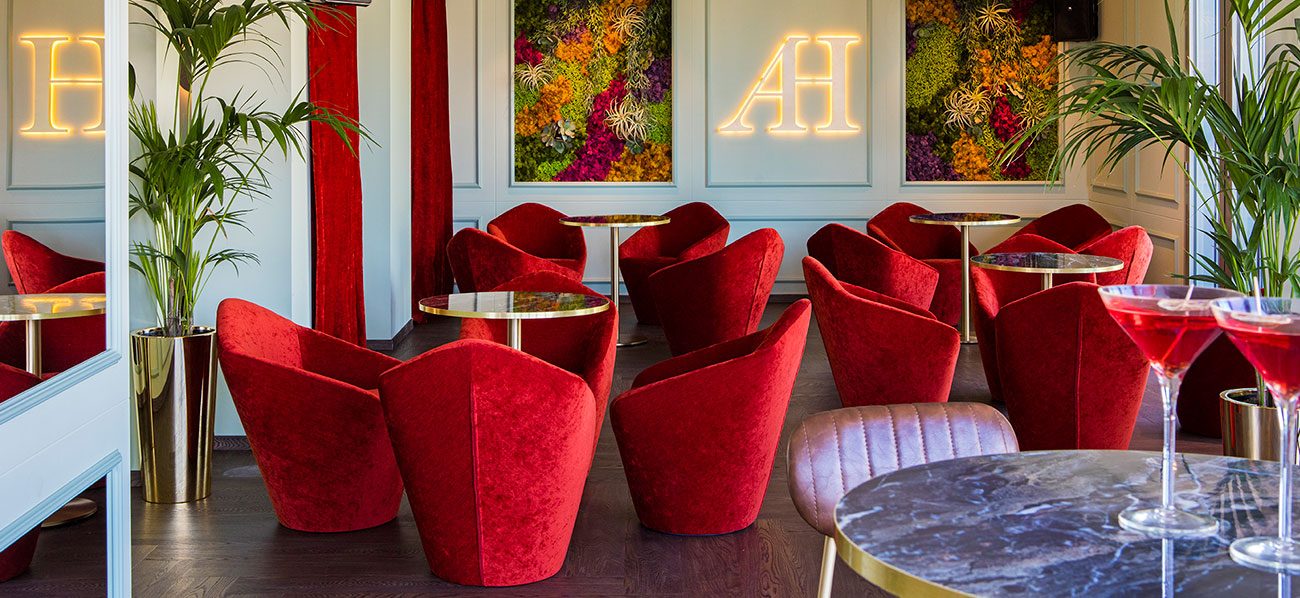 Original bars in Barcelona: Sky Bar by Axel
13 Aug 2019 by Axel Hotels
Axel Hotels did it again. One of the most original bars in Barcelona is located between Consell de Cent and Aribau streets, located on the 7th floor of the Axel Hotel Barcelona. It has feathers, many colors and very varied (pheasant, peacock, among others). It also has a very long and very large bar full of colored condoms that light […]
Axel Hotels did it again. One of the most original bars in Barcelona is located between Consell de Cent and Aribau streets, located on the 7th floor of the Axel Hotel Barcelona.
It has feathers, many colors and very varied (pheasant, peacock, among others). It also has a very long and very large bar full of colored condoms that light up at night.
Another aspect that makes the Sky Bar by Axel the benchmark of the best original bars in Barcelona is that it is one of the most interactive bars in the city.
This means that, in addition to enjoying cocktails and combined in an infinite menu, you can also interact with the space around you because everything, absolutely everything, tells a story. A history of inclusion, diversity, elegance and illusion.
Original bars in Barcelona: The lovely story of the Sky Bar by Axel
You enter through the door and see a fan of feathers. A lot of feathers. There are all the colors you can imagine. A little breeze enters through the window and the feathers flutter slightly, all together, as if marking an unintelligible rhythm of calm.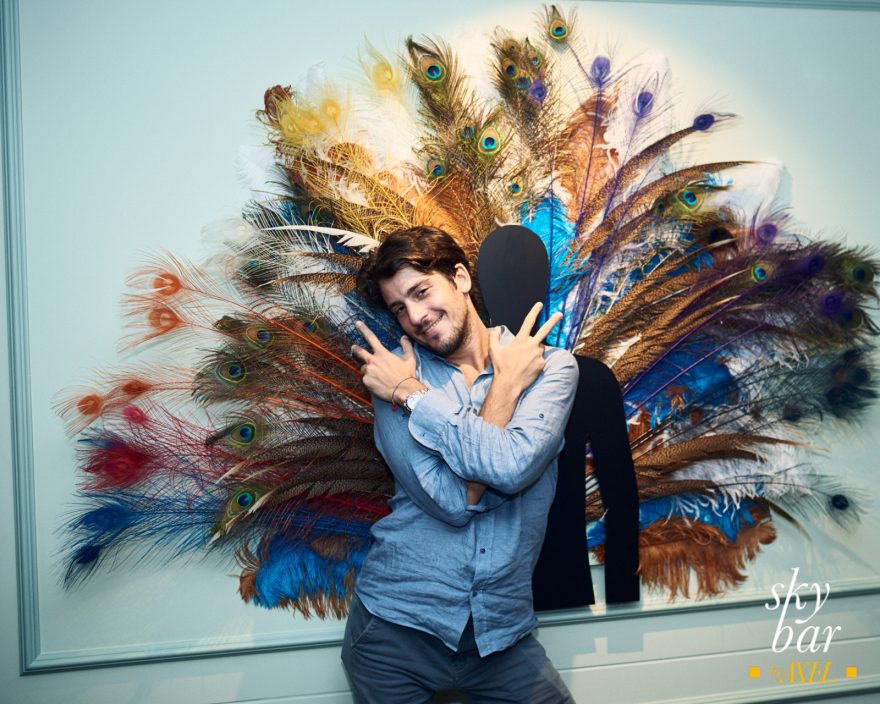 If we could materialize diversity this fan of feathers would be ideal. In fact, Sky Bar by Axel seeks to represent how diverse we all are humans. Each one of a form, a color, a way of thinking and living. In this bar you can find the one you like best and take a picture with all of them.
We advanced a few meters forward and we ran into six frogs. Each of a color (red, orange, yellow, green, blue, purple). The rainbow flag is broken into six jumping frogs that decorate one of the walls of the premises. And they invite us to go after them, to chase them, to enjoy the walk to, perhaps, dare to kiss them and see who appears.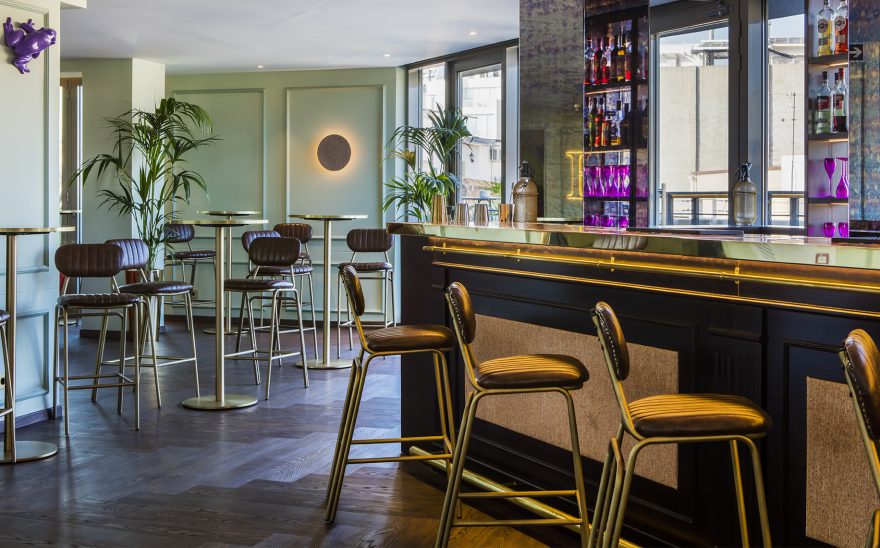 Right in front of the frogs is the bar counter. An extensive bar that emanates colors, design and, above all, love. We lost count of the amount of colored condoms that adorn the bar, all on a white background that illuminates at night and makes the entire structure shine in a very special way.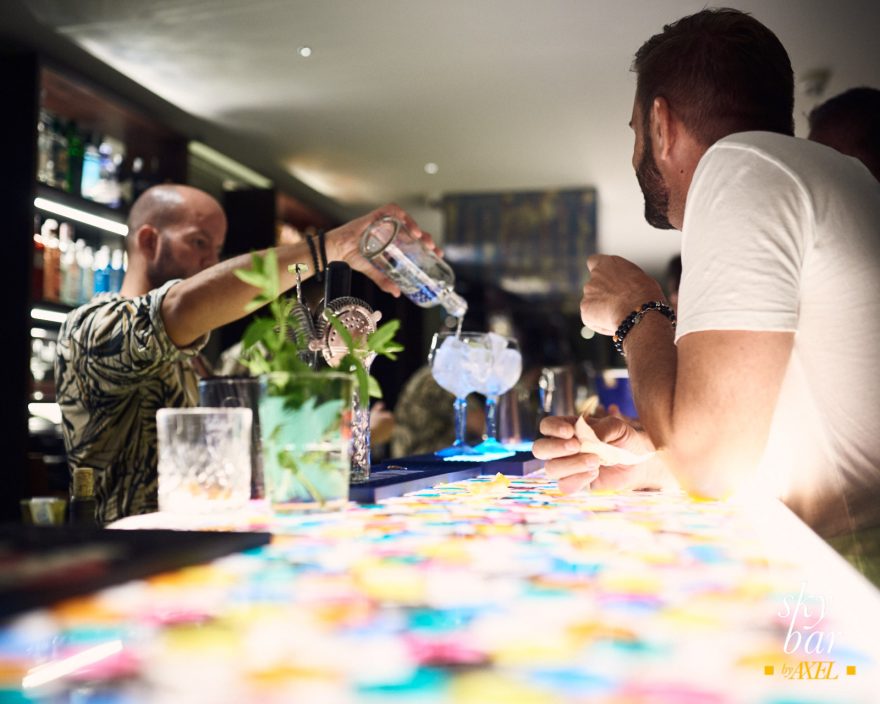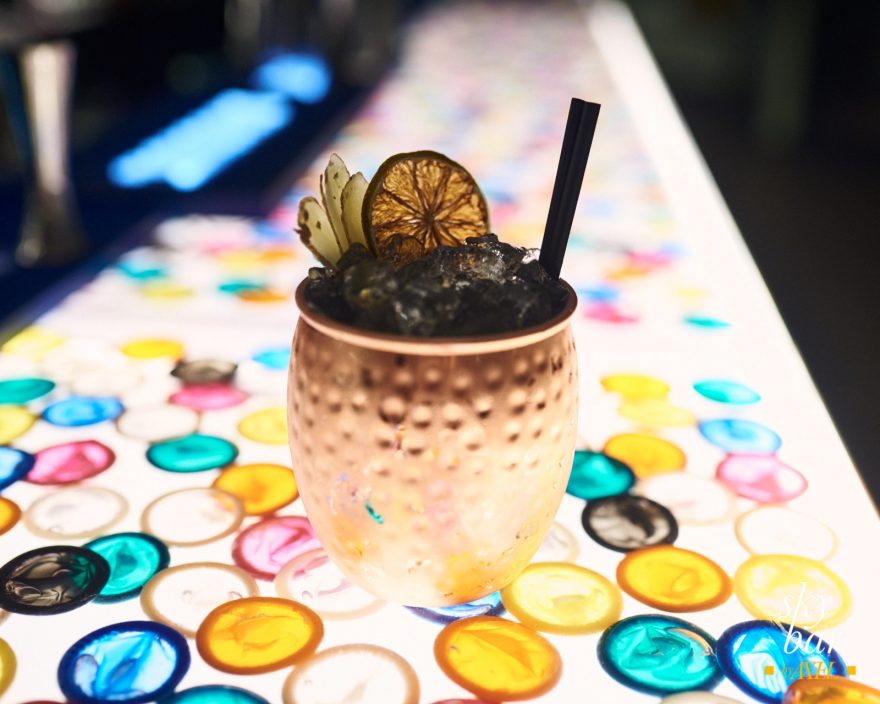 If we continue our journey by sliding between the padded red and blue armchairs, we will see a hidden space to enjoy good company in the shadow of a giant banana that crowns one of the wall moldings.
Again, a design fantasy that plays with the imagination, with the size and with the essence of the chain to transmit even the smallest detail in each of its elements.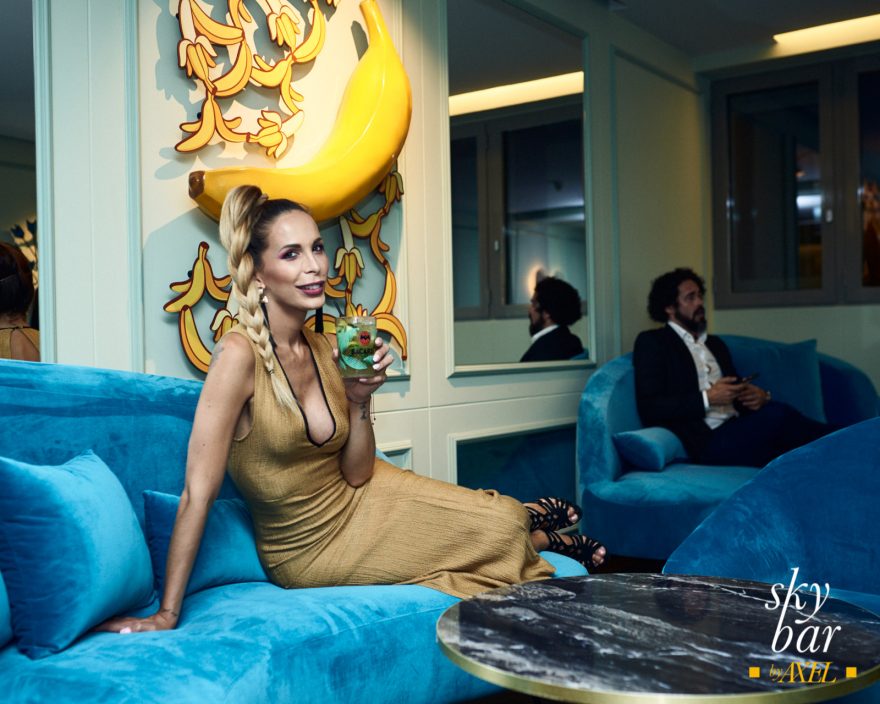 A few meters from the giant banana, a silhouette is being hit by dozens of arrows … a clueless Cupid? Too many love affairs? Any love story is worth posing with the arrows of love while enjoying some of the house cocktails.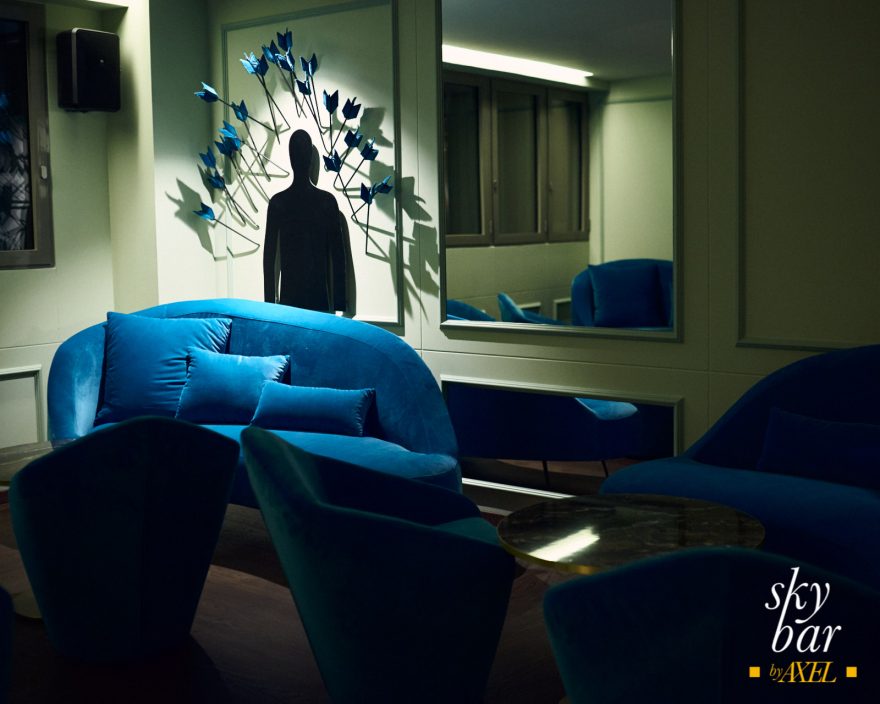 All these elements, together, draw a story illustration where to live extraordinary evenings, meet other people with the same concerns, share moments of relaxation in good company, enjoy live music and exclusive performances, have fun with the most charismatic hosts in Barcelona … In short, enjoy life and this moment that you give us.
Terraces with views in Barcelona: Sky Bar by Axel
On the 8th floor of Axel Hotel Barcelona you will find the hotel pool and a bar service that during the day serves the hotel guests and external customers who want to spend a day at the pool and have a drink.
However, when night falls, the new and remodeled Sky Bar by Axel has both interior and exterior space. This means that a long terrace runs through the entire bar space with exquisite views of Barcelona.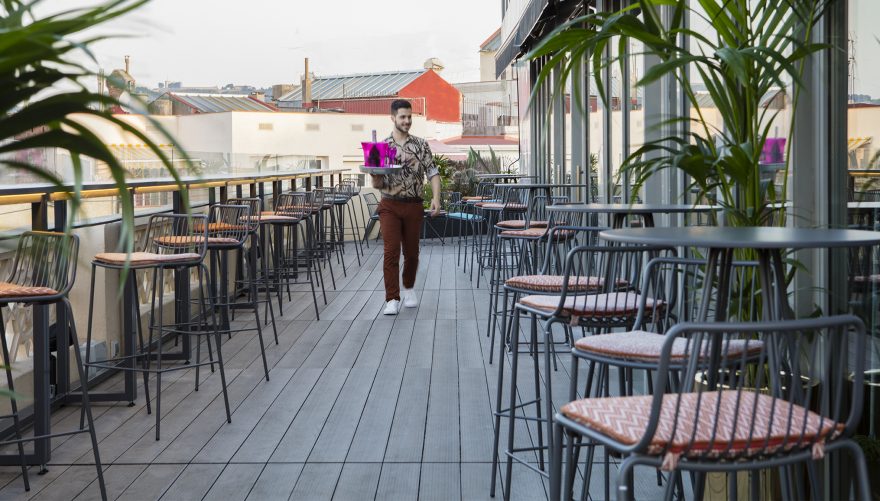 There are different floors, low tables, stools, high tables, viewpoints and hidden areas that reveal an authentic oasis in the middle of the city.
All this makes it one of the most visited and photographed original bars in Barcelona, because all its elements give a lot of play among customers.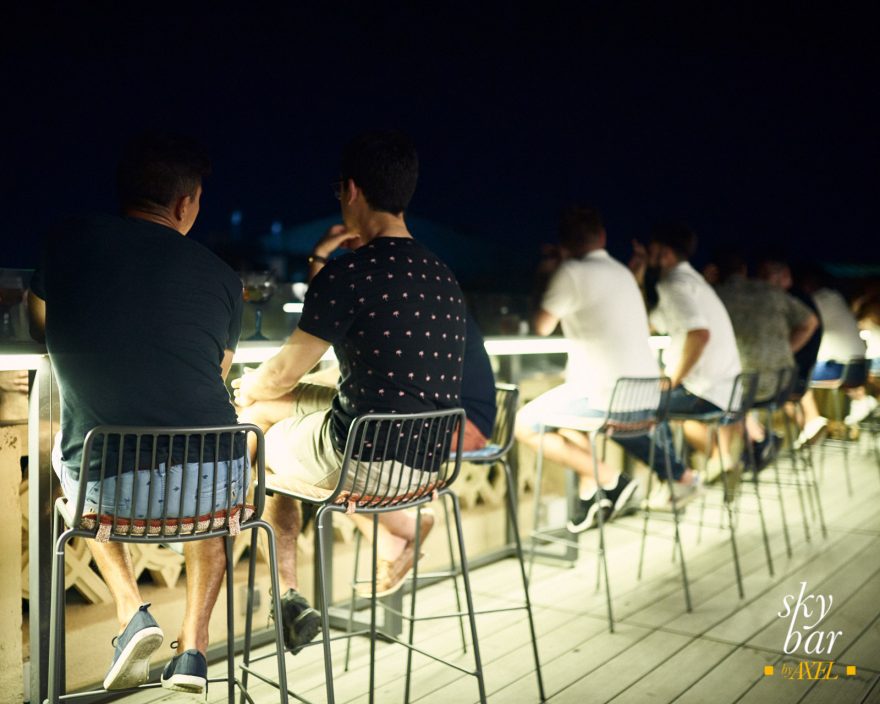 Gay parties in Barcelona, the meeting point in Sky Bar by Axel
Barcelona is a cosmopolitan and open-minded city. In addition, Axel Hotels is the first hotel chain aimed at the LGBTIQ + public. It is not considered as «gay», but has a more inclusive term, «heterofriendly». It is designed for the LGBTIQ + public, but open to everyone.
The same thing happens with Sky Bar by Axel. It is a space of inclusion, diversity and joy. Therefore, everyone is welcome, although it is true that it has established itself as a point of reference between the collective and gay parties in Barcelona.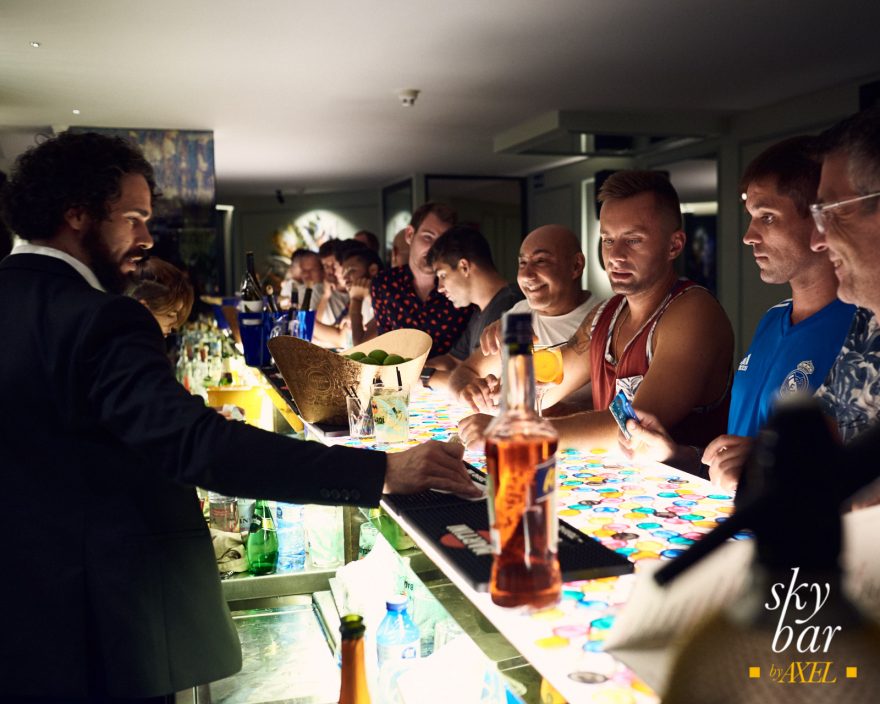 You just have to check the event schedule on Facebook, where we find all kinds of parties. There are more lively ones, with live DJs like the Banana Láser, well known for its repertoire of commercial and pop songs.
Other days there is a drag queens show with the hottest and funniest girls in the city. On these nights, the laughs are assured and also the courtesy shots that our queens distribute.
The rest of the days we find good music and good company, sometimes guest artists and live shows that will leave you with your mouth open. If you do not want to miss any of the activities, follow Sky Bar by Axel on Instagram and do not miss any special offer, event or party.